WHY VEGAN SOFT-SERVE?
There is a lot more to buying our Vegan soft-serve other than the amazing taste! The foundations of this product are built on a conscious effort to end cruelty & suffering towards animals.
Our ice-cream contains No ingredients derived from animal sources & no nasties, there is just no need for it because we recognise the power of plants!
With a growing understanding and adaptability of living a plant-based Vegan lifestyle, its benefits to the health & the well-being of humans, the positive effects on the environment & the sustainability of planets resources there is no reason not to take a leap for mankind.
There is a growing demand for food establishments to offer dietary alternatives, be it due to lifestyle choices or allergies/intolerances.  Our Vegan soft-serve ice cream is free-from the main 14 allergens including dairy, eggs, gluten, soy & nuts. Increase your sales & generate new customers with our products.
OUR VANILLA SOFT-SERVE IN ACTION!
 DAIRY FREE
SOY FREE
 LACTOSE FREE
 GLUTEN FREE
 NUT FREE
MAKES GREAT SHAKES
 ECO-FRIENDLY
NON-GMO
Want to try before you buy? Order a Vegan soft-serve sample pack for your business today!
CREATE VEGAN MILKSHAKES!
THICK, CREAMY & DELICIOUS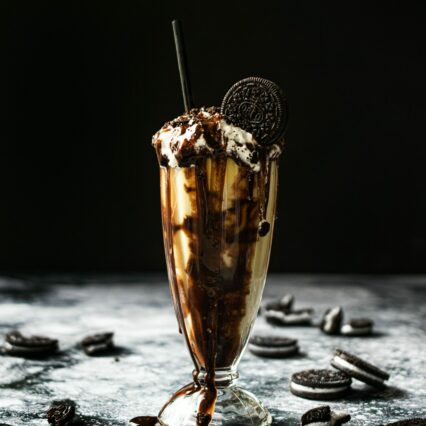 There is nothing quite like a cold, thick milkshake on a hot summers day…except if its a Vegan milkshake then it's out of this world!
Add another revenue stream to your business by using our soft serve mix to create Vegan ice cream milkshakes and really stand out from the crowd! We also supply concentrated flavour syrups to create an array of delicious milkshakes.
Get your freak on by offering your customers Freakshakes, this crazy novelty will blow peoples minds and the ideas are endless. Extra thick shakes where anything goes, throw in some brownie chunks, put a doughnut on top, or perhaps a wedge of cake? This is a unique selling point for your business and we can help make it happen.
Do I need a soft serve machine?
Yes, our product requires that you have a commercial soft serve machine. It will not work with conventional at-home ice cream machines as it is designed only for the functions that a soft serve machine performs.
What is your product shelf life?
When unopened, our soft serve mix can last up to 12 months. This is ideal compared to liquid mixes that offer limited expiry dates or pre-mixed frozen products that require freeze storage, costing you money.
When opened and mixed, you can store it in your soft serve machine hopper or refrigerator for up to a week. Machines that feature self-pasteurisation offer an extended shelf life from 2 weeks  + (Please read your machines manual)
How can I buy/lease a soft serve machine?
We don't sell or lease machines directly, however we have contact with some of the best brands in the business so just let us know your budget and we will be able to help.
Where do you ship to?
We currently ship to mainland UK and we also ship internationally, due to recent changes is law we may/may not be able to ship to you so please do get in touch prior to ordering so we can let you know.